08 Dec

NEW Single-Use Instrument – Cervical Rotating Biopsy Punch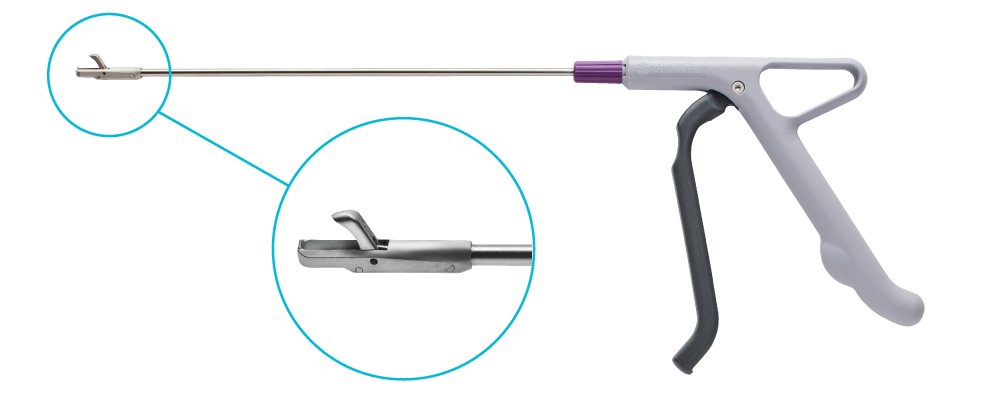 Summit Medical Launches New Single-Use Instrument Product Line Cervical Rotating Biopsy Punch
We're thrilled to announce the launch of our single-use instrument product line! The product leading the expansion is a gynecology product called the Cervical Rotating Biopsy Punch which supports urgently needed procedures like a cancer diagnosis. The single-use instrument was first introduced by DTR Medical, an Innovia Medical Company in 2012.
Since the initial development of the Cervical Rotating Biopsy Punch, the product has been used by numerous National Health Service (NHS) clinics and hospitals in the U.K. that have provided annual product feedback allowing for continuous product innovations. As part of an ongoing project with a leading Welsh University, a pioneering technique, known as biorefining, was used to recreate low carbon technologies for both the Cervical Rotating Biopsy Punch and its packaging.
The instrument handle is now made of 20% renewably sourced propanediol (PDO) made from corn starch, making it both lightweight and recyclable. The polybag packaging was biorefined in 2020 to save 1,200 pounds of plastic each year. The Cervical Rotating Biopsy Punch has 2.8 times less of an environmental impact than other single-use products on the market like the metal Tischler Cervical Biopsy Punch and Baby Tischler Cervical Biopsy Punch.
Single-use instruments like the Cervical Rotating Biopsy Punch eliminate cross-contamination, inadequate samples and repeat procedures. With Cervical cancer screenings down 68% in the U.S. due to COVID-19 [1], the importance of an adequate biopsy is essential in reducing the time to an accurate diagnosis.
Improving Patient Outcomes with Early Detection
Human Papillomaviruses (HPV) is the most widespread sexually transmitted infection (STI) worldwide with 12% of women having a detectable cervical HPV infection. HPV-related cancer makes up 8.6% of all cancer cases worldwide [2]. When detected at an early stage, the 5-year survival rate for people with invasive cervical cancer in the U.S. is 92% [3]. Reducing the amount of time between diagnosis and treatment with adequate biopsies can improve patient outcomes.
The Cervical Rotating Biopsy Punch has been supported by Gynecologists with comments like "It's amazing how light it is! I'm really impressed with the jaw, it's so sharp" from Garima Srivastava, Gynecology Consultant at Harrogate District Hospital in the U.K.
A Colposcopy appointment can cost a clinic between $1,800 – $1,958 depending on the number of medical professionals needed for the appointment [4]. If the initial biopsy sample is inadequate, damaged or simply cannot provide an accurate prognosis; patients require a secondary appointment to take additional samples. Insurance typically covers fewer costs for secondary appointments requiring both the patient and the medical facility to pay more for the second appointment.
The Cervical Rotating Biopsy Punch's metal jaw is stronger than titanium and ensures a sharp, clean, 3.0 x 7.5mm cut that delivers consistent results even on postmenopausal women and patients with a hardened cervix leading to efficient Pathology laboratory results and quick diagnosis. The instrument's low profile jaw ensures better access to the Transformation Zone when migrating into the endocervical canal. The 360-degree rotating head facilitates positioning and enables increased visibility.
A 2019 survey conducted in the U.K. by DTR Medical discovered that 88% of clinicians would recommend Innovia Medical's Cervical Rotating Biopsy Punch to a colleague as a result of its high performance and effectiveness. The same survey found that 86% of clinicians described their first sample as either "good" or "very good" when asked about the quality of both the cut and the biopsy and the ease of removing the sample from the jaw. A high-quality sample taken in just one attempt reduces cervical trauma and patient discomfort. Louise Johnson, Nurse Colposcopist at the University Hospital of Wales was quoted as "Absolutely would recommend" when asked about the Biopsy Punch.
To learn more about the Cervical Biopsy Rotating Punch or Innovia Medical's single-use instrument product line expansion into the U.S. visit https://summitmedicalusa.com/single-use-instruments/cervical-rotating-biopsy-punch/.
References
[1] Respaut, R., & Nelson, D. J. (2020, April 28). Exclusive: U.S. Medical Testing, cancer screenings plunge during coronavirus outbreak – data firm analysis. Reuters. Retrieved December 3, 2021, from https://www.reuters.com/article/us-health-coronavirus-usa-screenings-exc/exclusive-u-s-medical-testing-cancer-screenings-plunge-during-coronavirus-outbreak-data-firm-analysis-idUSKCN22A0DY.
[2] de Martel, C., Plummer, M., Vignat, J., & Franceschi, S. (2017). Worldwide burden of cancer attributable to HPV by site, country and HPV type. International journal of cancer, 141(4), 664–670. https://doi.org/10.1002/ijc.30716.
[3] American Society of Clinical Oncology. (2021, February 8). Cervical cancer – statistics. Cancer.Net. Retrieved December 3, 2021, from https://www.cancer.net/cancer-types/cervical-cancer/statistics.