10 Dec

Don't Forget a Validated Tray!

Developing new devices like surgical instruments is exciting. Going through the varying phases of development in preparation for market introduction can be lengthy and arduous but rewarding when the true impact to patient care is witnessed. Unfortunately, we have experienced a missing piece of the product development puzzle as it relates to validated sterilization trays to accompany new devices. Far too often device manufacturers skip this essential accessory to the device and realize it near the end of the development process or once launched into the marketplace.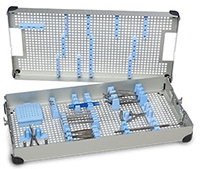 Thankfully, you have InstruSafe OEM Solutions by Summit Medical for these situations! Our line of private label sterilization trays are designed to our customers specifications, but come out of the box with our validations, 510(k) clearances and CE marking. Let us not forget they also come with our world class instrument protection and organization as well. We offer high-quality tray materials in stainless steel, anodized aluminum and medical grade silicone all of which are proudly made in the USA. Our process is customer-centric from concept to completion while ensuring the ideal tray is paired with your instrument for market launch. Already have your instruments in the market? Worry not we are agile in our approach to sterilization trays and can quickly partner to develop a tray solution.
Whether early in your development process or nearing market introduction we are your ideal manufacturer for sterilization trays. To learn more about our OEM Tray Solutions visit https://www.instrusafe.com/oem-solutions/oem-home/.
---